---
---
2004.5 Dodge Ram 2500 4x4 Cummins 600 H.O.
---
Click Here To See My Other Dodge
---
Hey, thanks for checking out my tow rig. This truck is a 2004.5 model Dodge Ram 2500
Laramie quad cab with a sport package. It is powered by the turbocharged Cummins 600
diesel and a 6 speed manual transmission. The truck is fully loaded and is the best truck
I've ever owned. It's awesome! This is my first diesel pickup and I'll never go back to a
gas-powered truck again. I'm putting down probably close to 500 horsepower and still
getting 21 miles per gallon. I can pull two or three Jeeps on my trailer with ease, or play
around off road, or hit the drag strip, or pull a sled, or simply drive around town with some
friends and have plenty of room. This truck does it all!
Below are a list of modifications I have done to the CTD, and more pictures follow.
For a video of my truck at the local sled pull this fall, Click Here.
Engine

5.9 liter Inline 6 Cummins Turbo Diesel Common Rail
325 horsepower/600 ft.lbs of torque stock
Stock turbo, silencer ring removed
AFE Proguard 7 Stage 2 air intake
Edge "Hot" Juice - 180 hp/440 ft.lbs torque
Edge "EZ" - 65hp/150 ft.lbs torque
Edge "Attitude" monitor with pillar mount
MBRP Cool Duals 4 inch exhaust with 5 inch tips


Lighting

PIAA 4 inch fog lights
PIAA 4 inch driving lights
KC Slimlites driving lights
KC Slimlites long range lights
Brite Box for headlights (dual beam on highs)
PIAA 55w backup lights, plus stock reverse lights
Green neon interior lights near front and rear cupholders
(wired to come on with headlights, I couldn't see the cupholder before)

Drivetrain

NV5600 6 speed manual transmission
SouthBend Clutch 3600 lb. 12 cb dual disk clutch
SouthBend Clutch hydraulic clutch upgrade
NP243 electronic transfer case
AAM 925 front axle (Dana 60 equivalent)
Dynatrac manual hub conversion with 35 spline outers and Warn hubs
AAM 1150 rear axle (Dana 80 equivalent) with disc brakes
3.73:1 gears

Stereo

Eclipse AVN7000 in-dash navigation/GPS/DVD head unit
Parrot handsfree bluetooth cell phone interface
Ipod controller and Sirius satellite radio boxes for head unit control
Infinity 3.5" coax front dash replacement speakers
Infinity 6x9" coax front door panel replacement speakers
Infinity 6.5" component set in rear door panels
Kicker 10 inch subs under backseat in custom box
Kicker 700w 4-channel amp for mids and highs
Kicker 650w mono amp for subs
Stinger amp wiring kits with 1 farad capacitor with digital voltmeter


Suspension

Skyjacker 4.5" lift with rear spring replacements
King remote reservoir 2.5" shocks, custom valved, 12 inch travel
Superlift sway bar links, Skyjacker sway bar drop brackets removed

Protection

Road Armor stealth series front bumper with prerunner light bar
Road Armor stealth series rear bumper
Bushwacker "Extend-a-Fender" fender flares


Steering

DSS steering brace
PSC steering box tapped for hydro
PSC hydro assist cylinder
ThurenFab crossover steering
ThurenFab adjustable track bar
Quad4x4 replacement ball joints

Tires and Wheels

17x10 MHT Luxury Alloys NT-1 wheels, 4.5" backspacing
37x12.50r17 BFGoodrich All Terrains currently
37x13.50r17 Toyo MT's ready to go on
37x12.50r17 BFG's on stock wheels as spares

Miscellaneous

Warn 16,500 lb electric winch
Kodiak Sidewinder steps on all four doors
Eclipse back-up camera
SRT-10 hood
SRT-10 shifter knob
B&W Turnover gooseneck hitch (removable ball)
3M protected rocker panels
Husky floor liners front and rear
5% tinted windows
Billet front door panel inserts (replace the red reflectors)
Ventvisors on all four doors
Sliding rear window
Drop-in bedliner and tailgate protector
Electronic brake controller for my 36 foot dual tandem flatbed
What's Next?

As I'm sure you can tell, I don't leave things alone. The truck runs great and looks
great right now but I have much bigger things in store for this Cummins. In the very
near future, I'm going to be upgrading all of the brakes because I've had some problems
with the stock rotors and pads for several months now. I'm looking at upgrading with
EGR Performance Brakes products like I did on the blue Dodge. That would give me
slotted rotors, carbon kevlar pads, stainless braided brake lines, and blueprinted calipers.
However, the stock brakes do work very well when they work, so I might just stick with
stock replacements for once in my life. I am also going to put some Firestone Ride Rite
airbags in the rear suspension to help level things out when I tow and hook up to the
sled. They are virtually non-existent when aired down but you can quickly air them up
and help support your rear suspension quite a bit.
I will also be working on a custom long arm setup for the front suspension with Don
Thuren of Thuren Fabrication. We've talked about it and there isn't anything really nice
available for the 3rd gen trucks yet, and Don has the skills and knowledge to put together
a long arm system that will blow away the competition. My truck will be the lab rat, getting
cut and measured, and finally, upgraded with Don's 3rd gen long arms.
After the long arms, I will put the Toyo MT's on because I'll be able to push my front axle
forward about an inch and get a little more room for the larger Toyos. That will also give
me more positive caster and the truck will ride like a Cadillac. Once the Toyos are on, I
will be looking into ARB air lockers for both differentials. Right now, they are only made
for the front axle, but I've heard that we should see a locker for the AAM 1150 rear axle
sometime in 2007. With lockers front and rear, I'll have twice the traction and my sled
pulling will be much more impressive.
Speaking of sled pulling, it is to blame for my long term goals with this truck. My truck
runs great but it's not winning like it should, so I will be visiting Haisley Machine in
Indiana in the future for some ATS twin turbos, larger injectors, new intercooler, and
much more. I'm just going to go all out. The nice thing about twins is that you can
still drive the truck on the street, even though you can put down some serious power.
I don't know what the truck has for numbers right now, but I'm looking to hit about 600
horsepower at the rear wheels with the twins, with only #2 diesel fuel. That is my goal.
I'm shooting for an extremely reliable, high horsepower daily driver and tow rig. Cummins
makes it easy to do, all it takes is a little time and a lot of money. I wish it was the other way
around, but then everybody would be driving around an 11 second 4 wheel drive.
---
Recent Pictures

Getting towed home after cracking the injectors
Older Pictures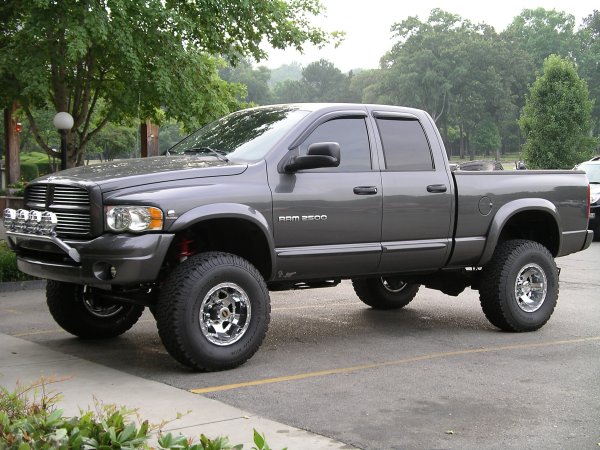 Dynatrac Manual Hub Conversion installed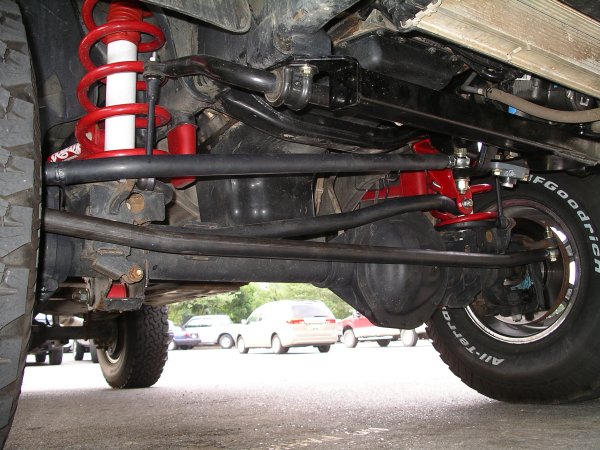 Thuren Fabrication's track bar and crossover steering, DSS steering brace, Superlift sway bar links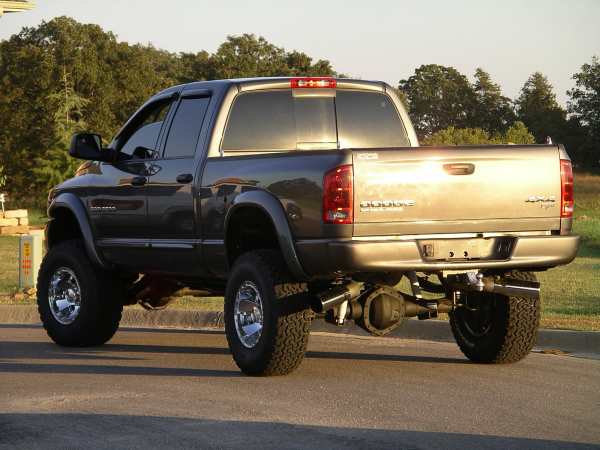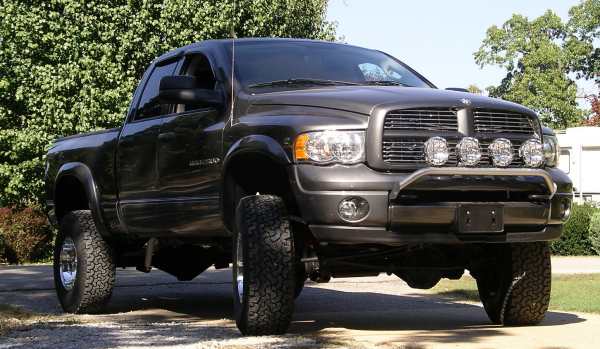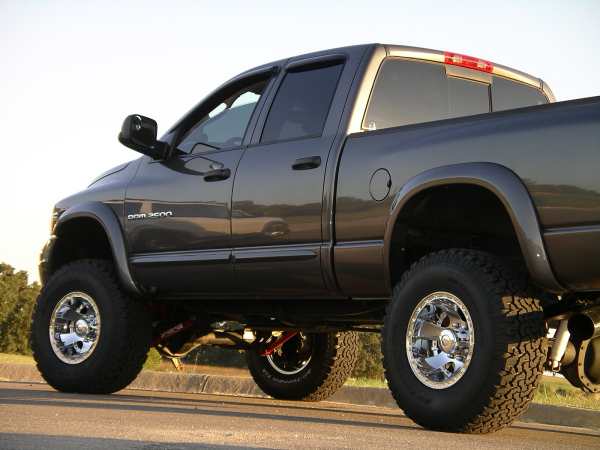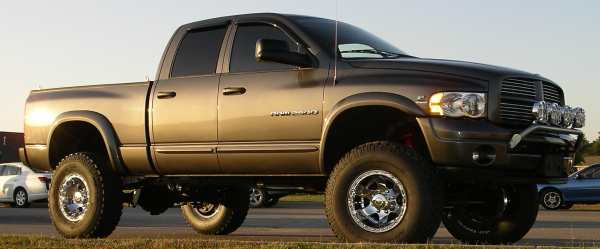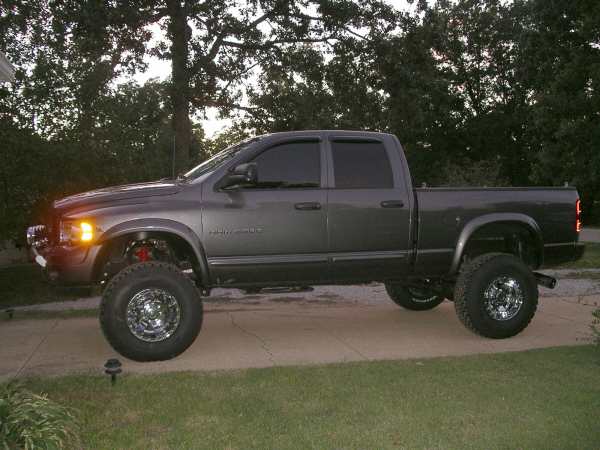 4.5 inch Skyjacker lift, 37x12.50 BFG AT's on 17x10 MHT NT-1 wheels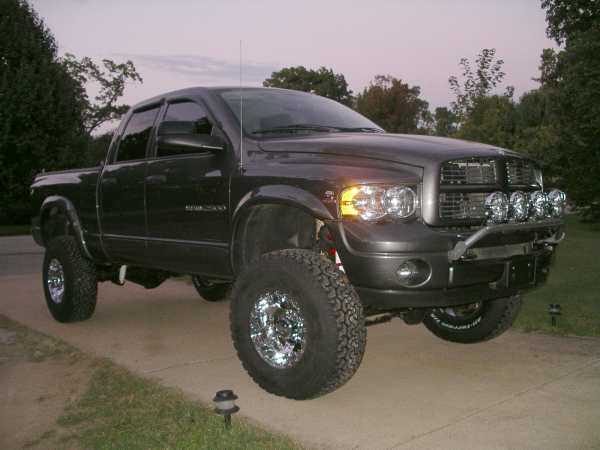 Here you can see the Randy Ellis Designs light bar and my 4 KC Slimlites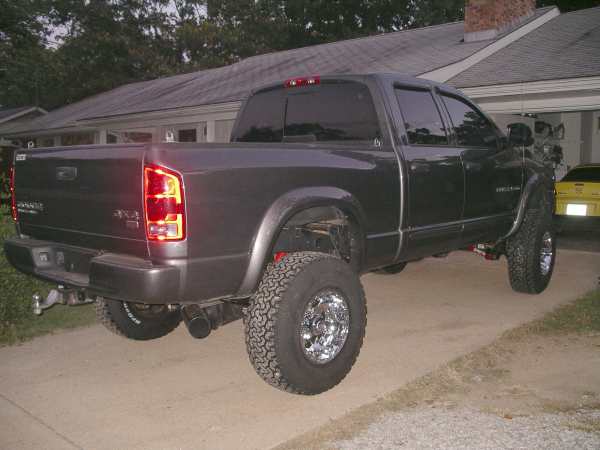 Side shot, you can see one of my dual 5 inch tips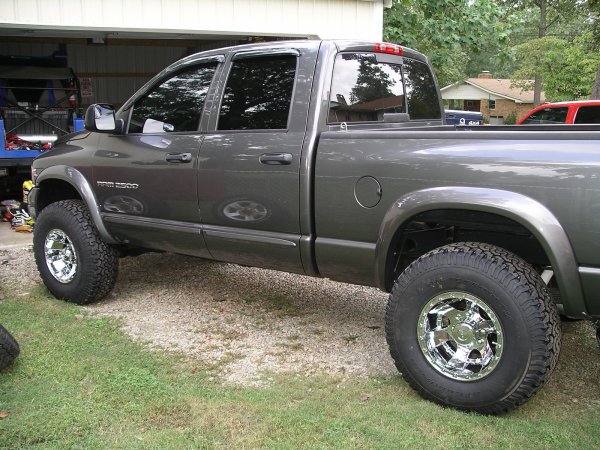 2 inch Daystars up front and 37 inch tires... they would fit with some major
fender trimming, or maybe an 8 inch wide wheel. These are 10 inch wide.
---
Stock Pictures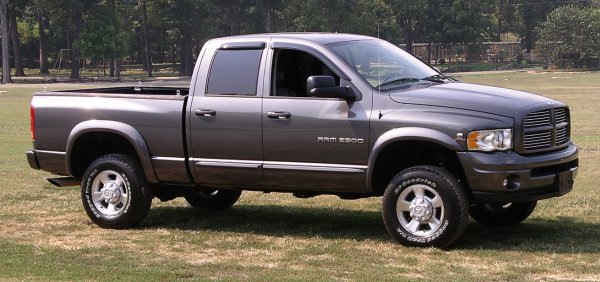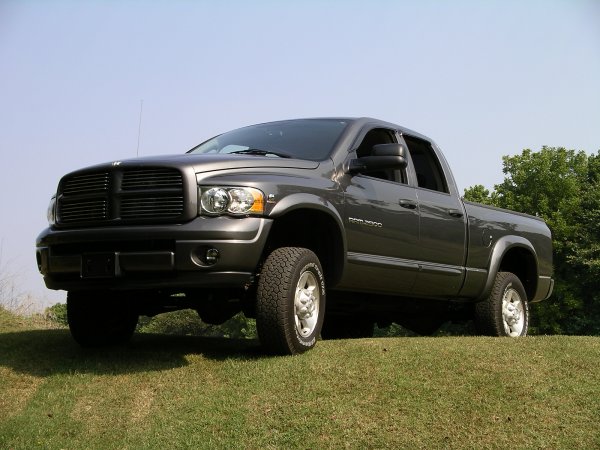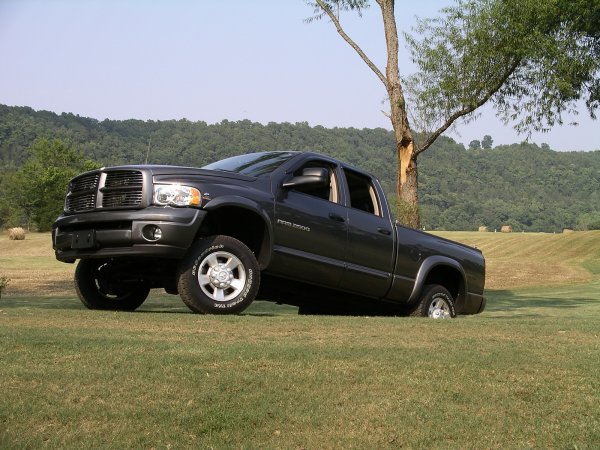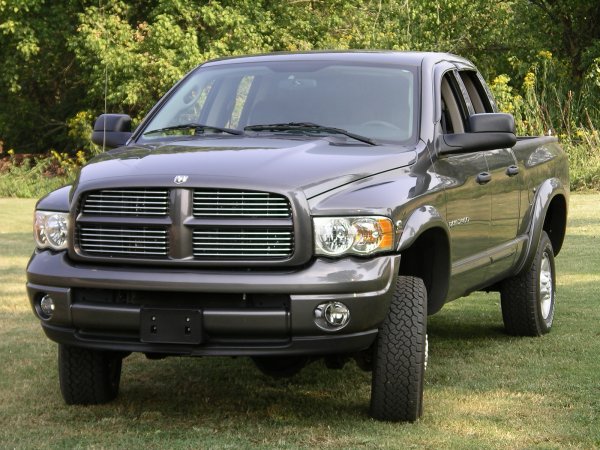 Diesel in the front, gas in the rear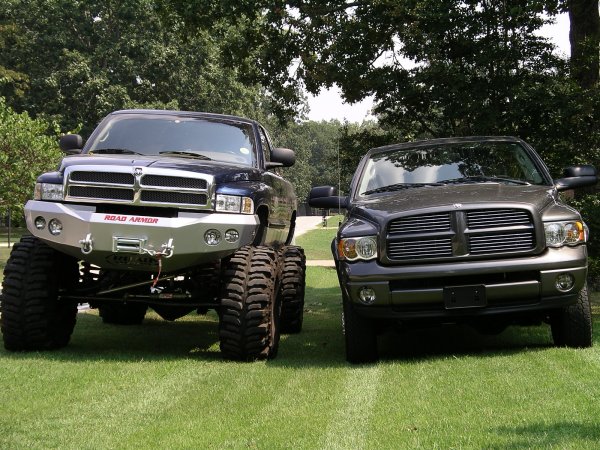 Old Dodge (2001) and new Dodge (2004)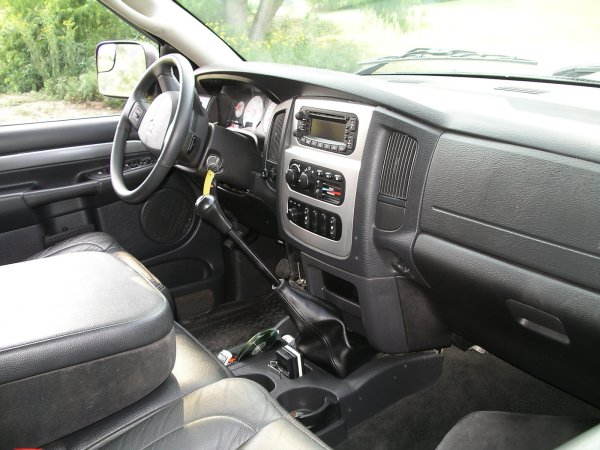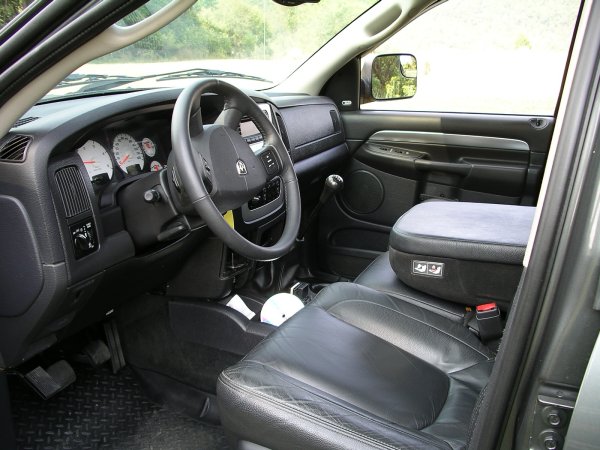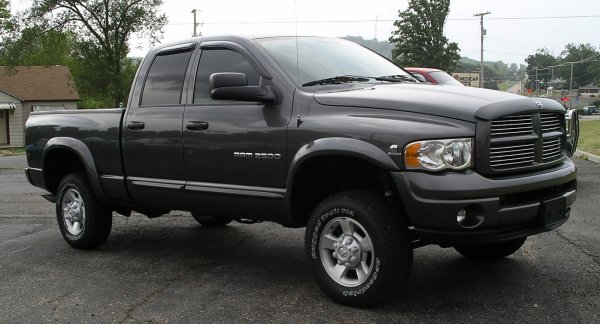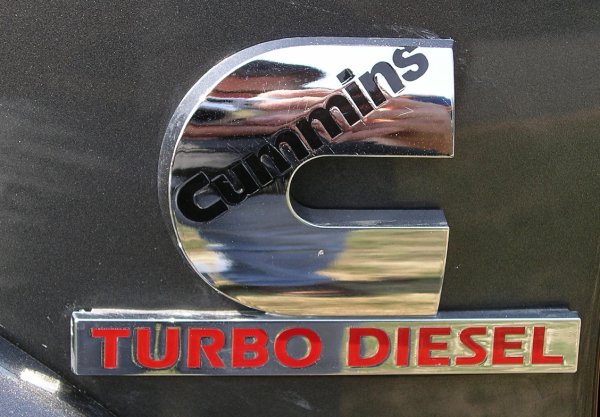 My favorite part!


Yes, it sure is.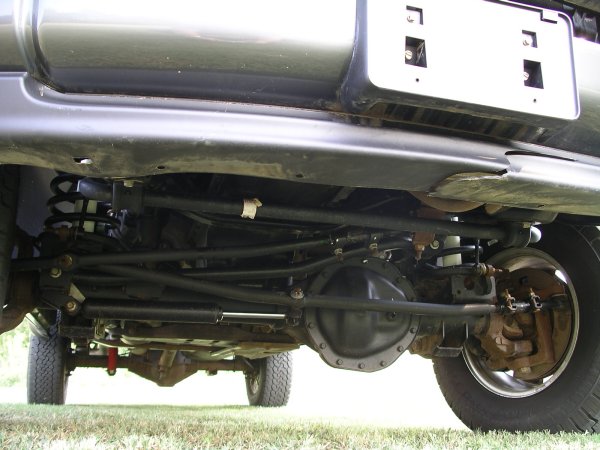 9.25 AAM front axle (Dana 60 equivalent) with four link suspension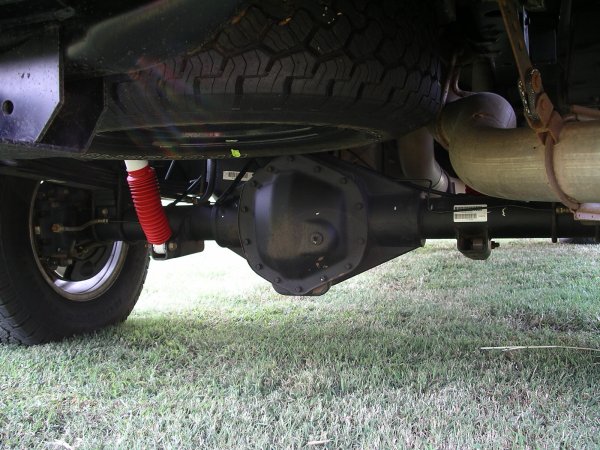 11.5 AAM rear axle (Dana 80 equivalent) with disc brakes
---
Copyright: Danny Gaston, 2001-2007
Last updated: February 09, 2007