---
---


January 14th, 2006
---
Here are some pics from the wheeling trip yesterday. Grandpa and I went back to Crooked Creek, where Clint rolled the previous weekend, and where Robie and I went the weekend before. This was the first time I made it all the way to the end of the creek at Yellville. We made it 7.2 miles (one way) and then turned around and came back, so it was a long, bumpy day. I did the most hardcore wheeling I have ever done in the Dodge, and was really impressed with it's capability. We were crawling through boulders that were spaced out extremely randomly, with muddy pits at the bottom, thanks to about 2 inches of rain we received this week. So what that meant is that the tires were getting clogged up, then you have to crawl on some rocks with gummed up tires... which translates into hammer down. All in all, I only had two instances were I had to back up and pick a different route, which was great considering the lines I was choosing were normally the hardest. I have to admit, there were some spots that I looked at and just didn't even want a piece of. I was running about 18 psi in my tires and I did have one coil pop out early on, so I was very aware of my limitations in the super extreme terrain. However, the long wheelbase and great ground clearance prevailed on everything we went through and I had no breakage at all!
Grandpa's YJ did awesome as well, with no further problems. Last weekend, his steering shaft came apart, and then it was replaced a couple of days ago with a new Borgeson. After the stuff we put his Jeep through yesterday, I am confident that it is very close to bulletproof at this point.

Anyway, here are some pictures, and I'll make some comments about what is going on in them. We did not get any pictures of the super hardcore stuff, because quite frankly, we were too busy driving to worry about cameras. I did get some good ones of the YJ in action but most of the Dodge shots are stand-still poser style shots... like you would expect anything else from me?
There was a huge sandpile where the ATV's play at, so I drove up on it. Woo woo!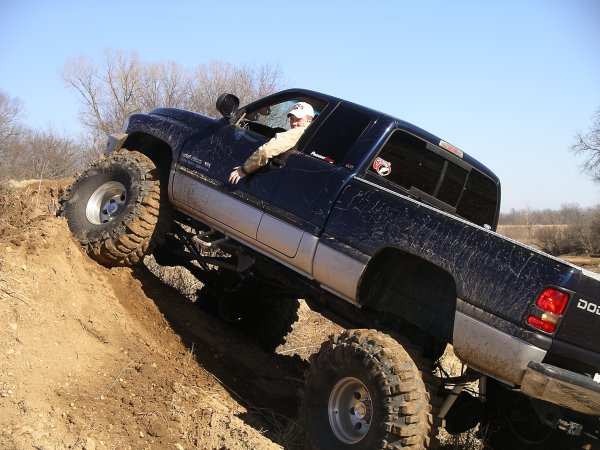 Grandpa making a run up a big sandy hill in 2wd... the front was not engaged so
it locked up and he actually pushed the front tires up while they were not spinning.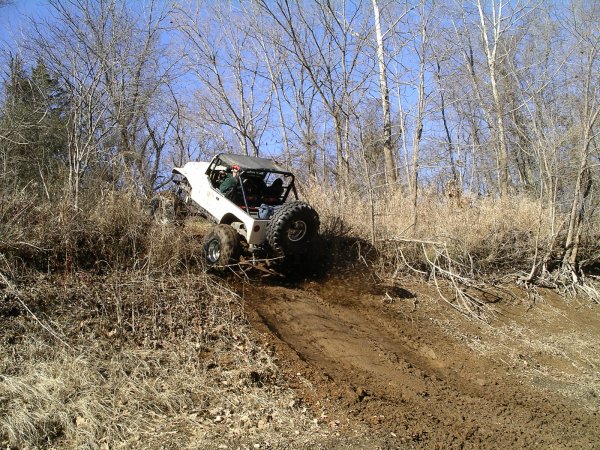 The start of the little creek trail that I found while wheeling with Robie a couple of weekends ago.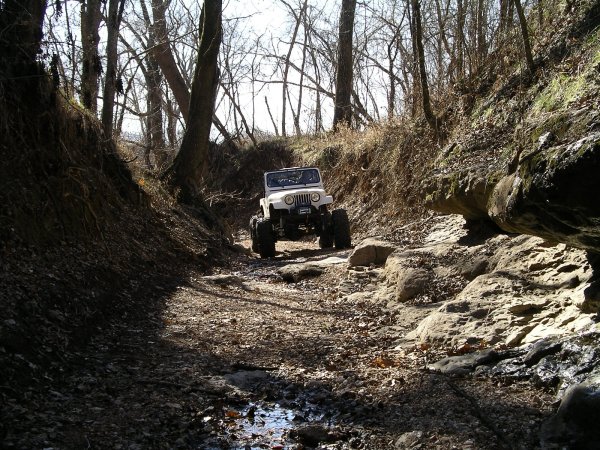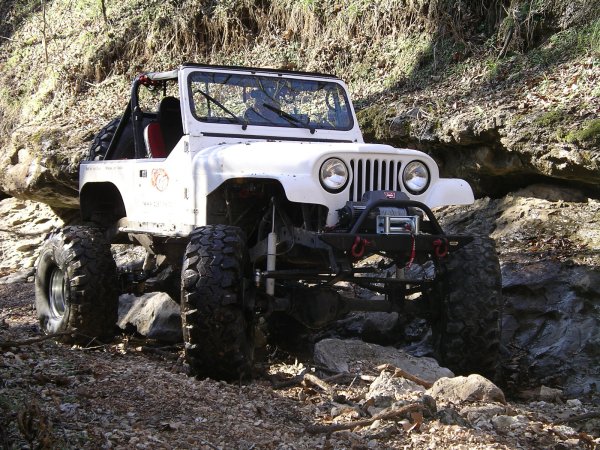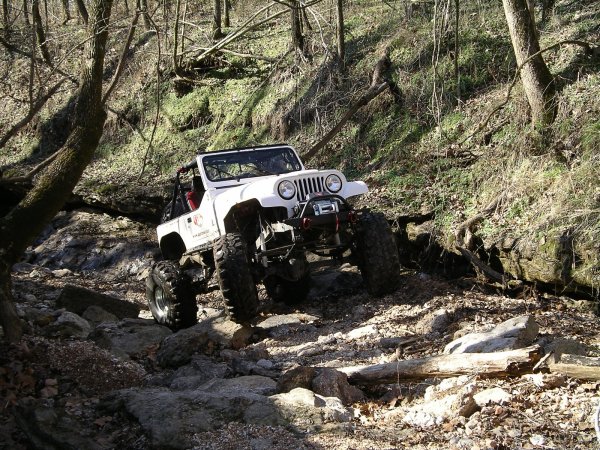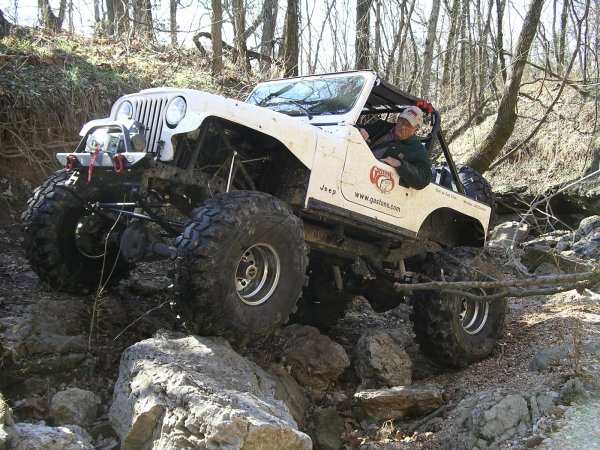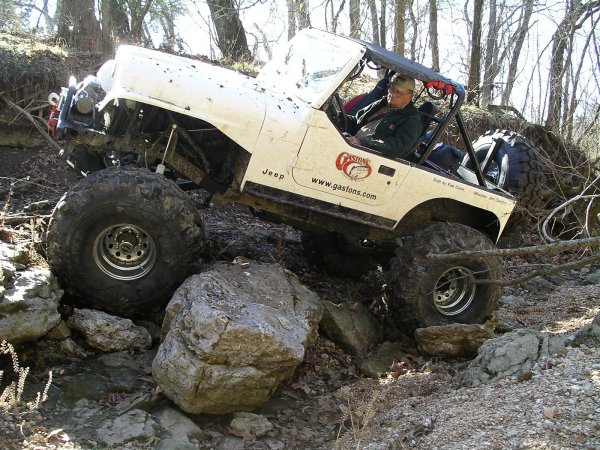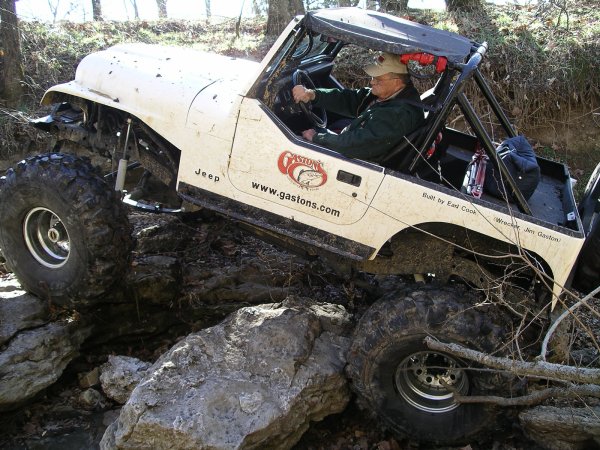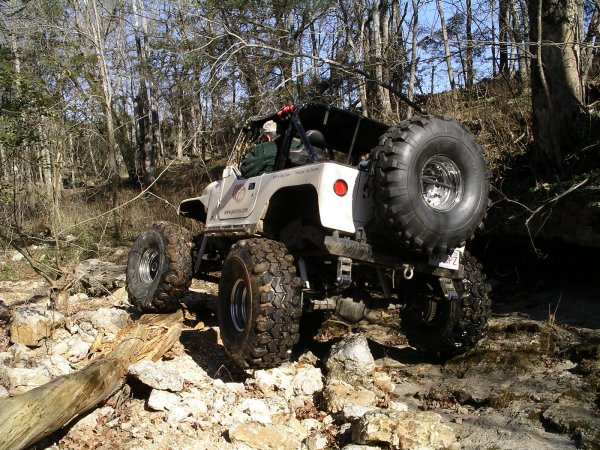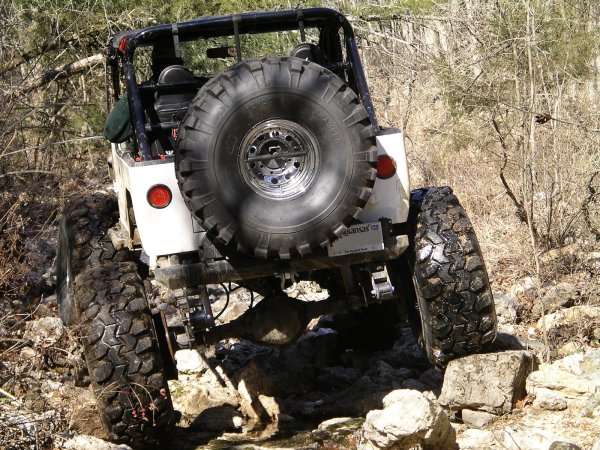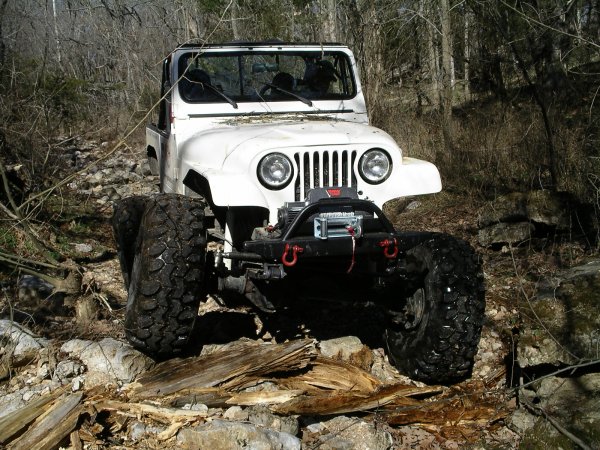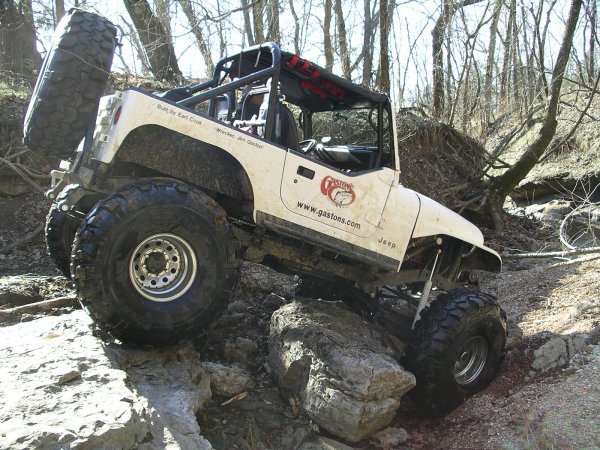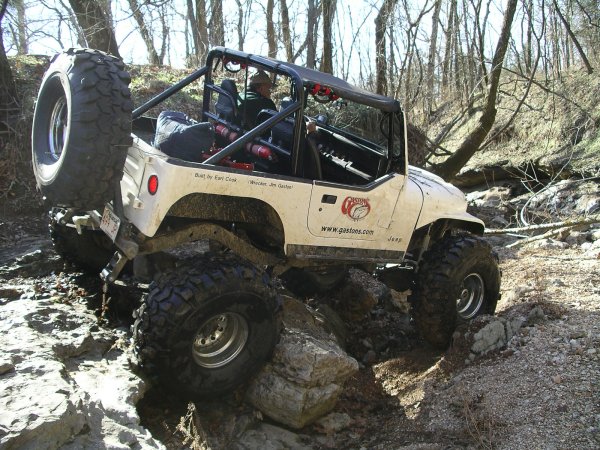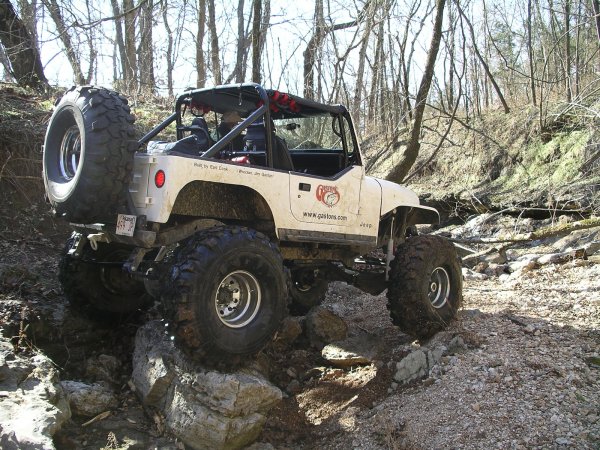 Now some poser shots.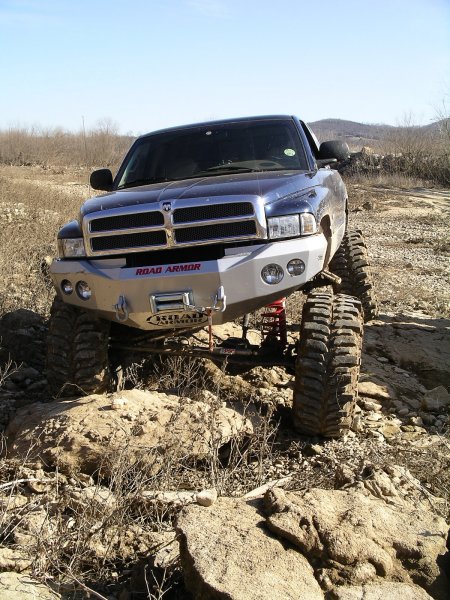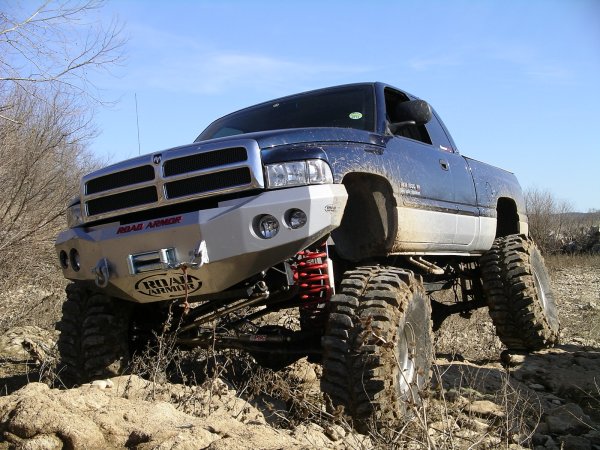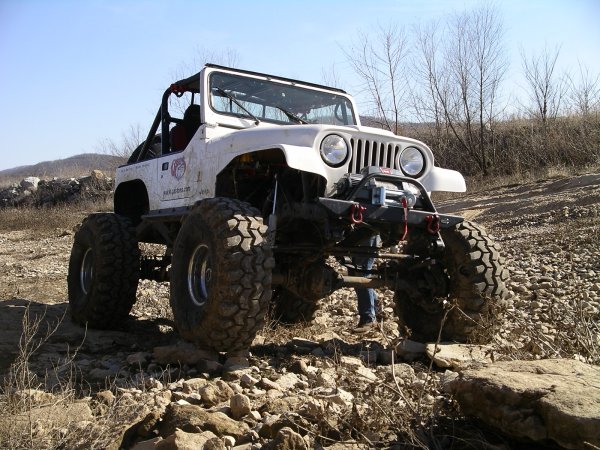 Damn coil popped out. The lower part stayed in but the top came out.
I used some huge zip ties to hold it in place the rest of the day. The
bottom parts are held in place with metal hose clamps.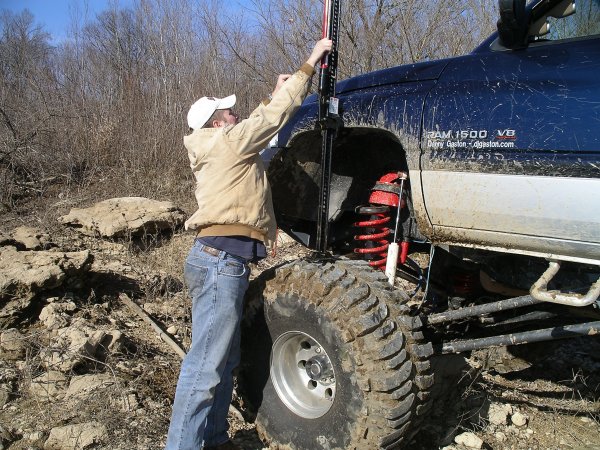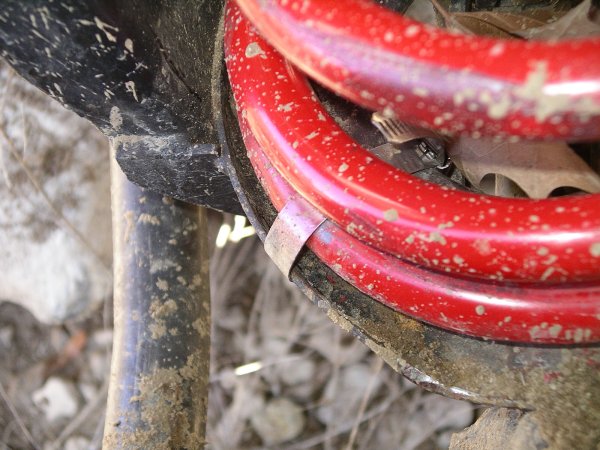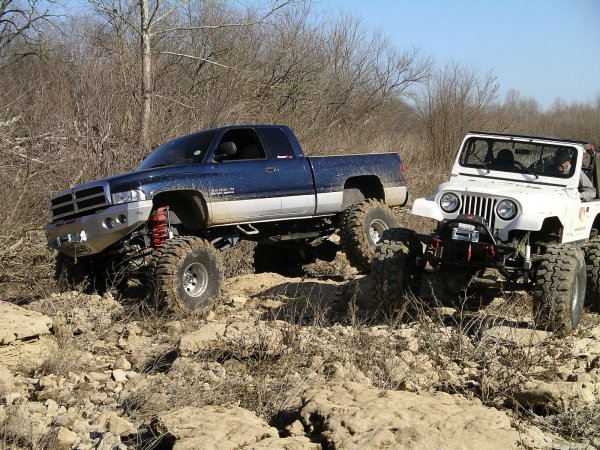 Okay, enough posing, back to wheeling.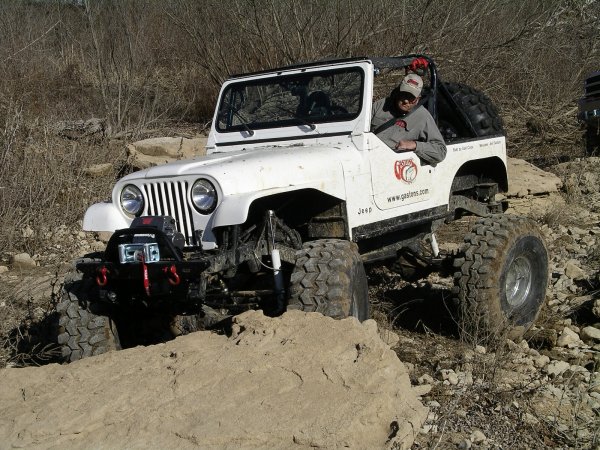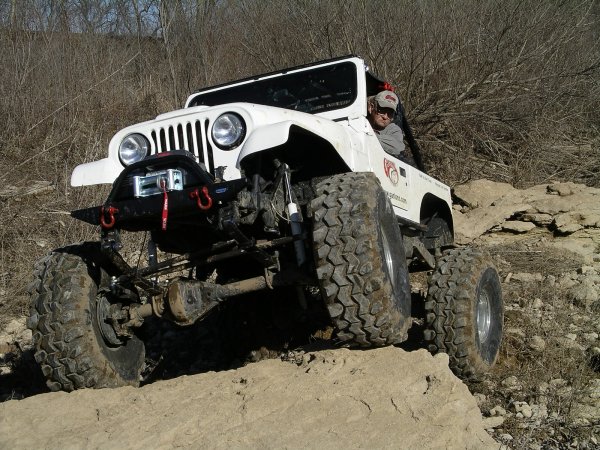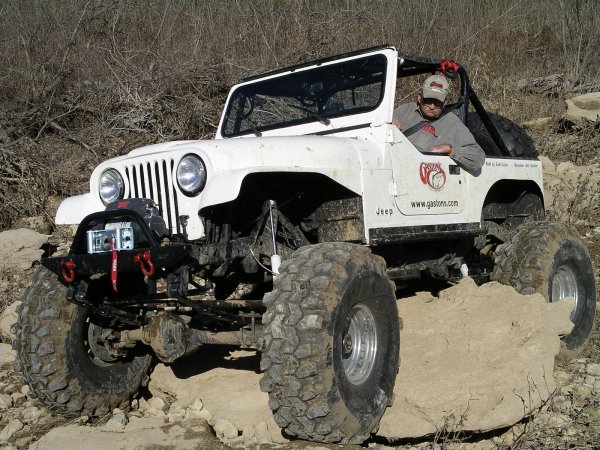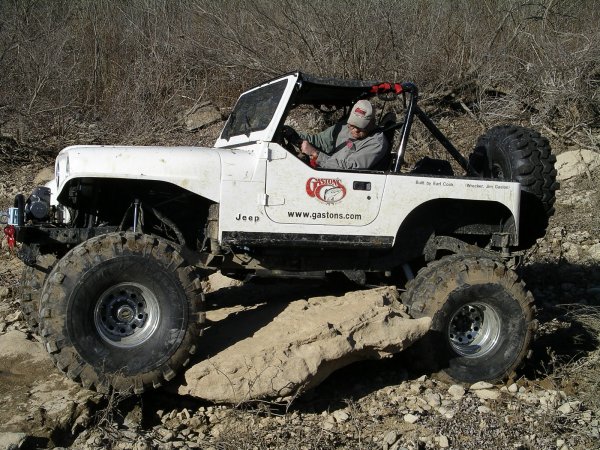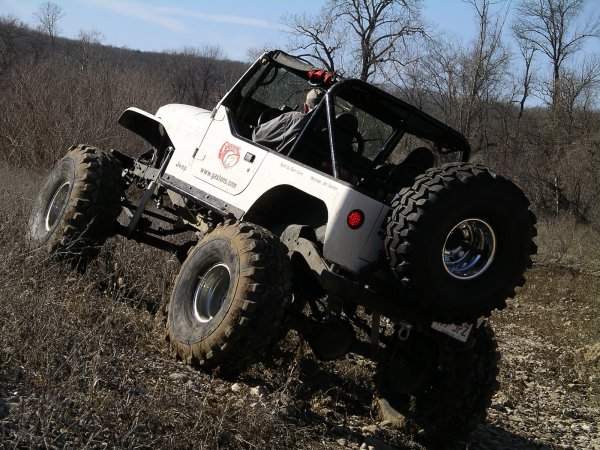 Several miles later, we found a SWEET waterfall to climb around on. I took the Dodge up first, then Grandpa went. My climb was pretty uneventful, the long wheelbase helped keep the truck pretty level. I wish I could have aired down more. I just had to back down, I couldn't turn around. There was a fence at the top so we couldn't go any higher.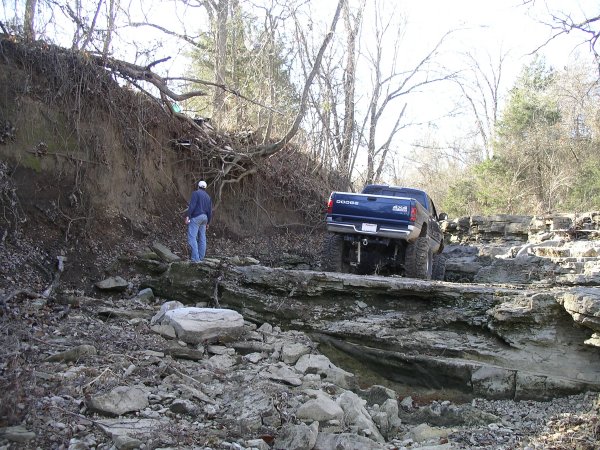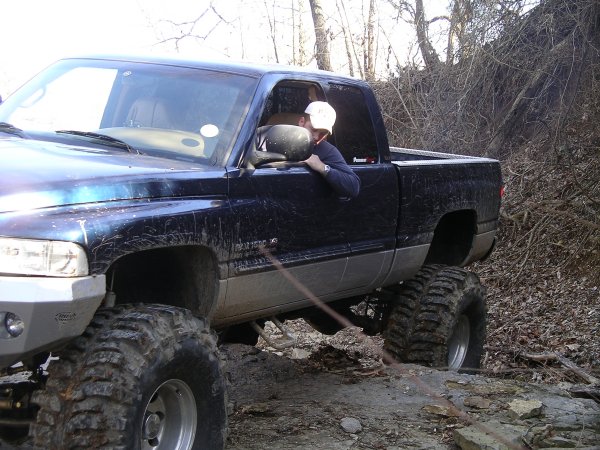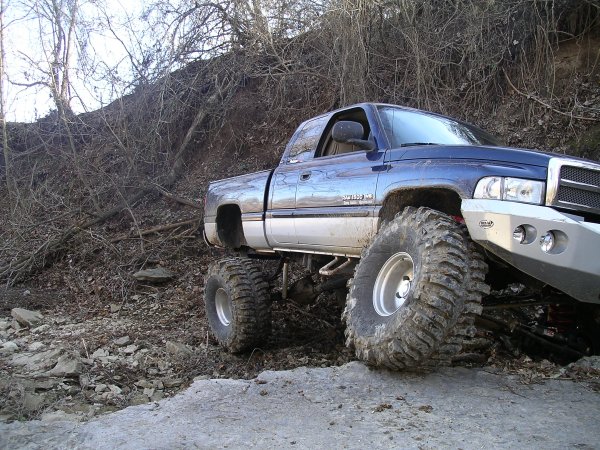 Then Grandpa went and made it look easy with his aired down TSL's.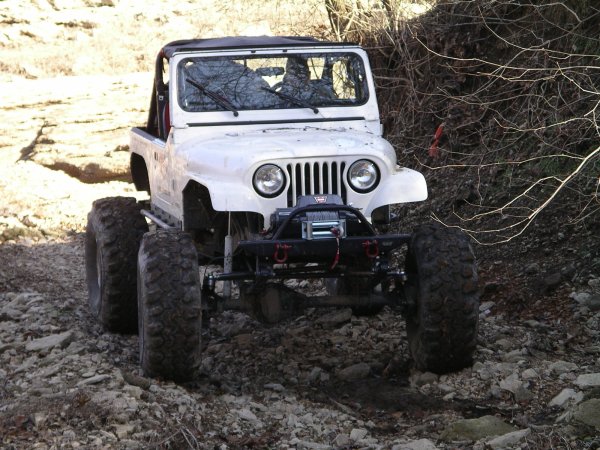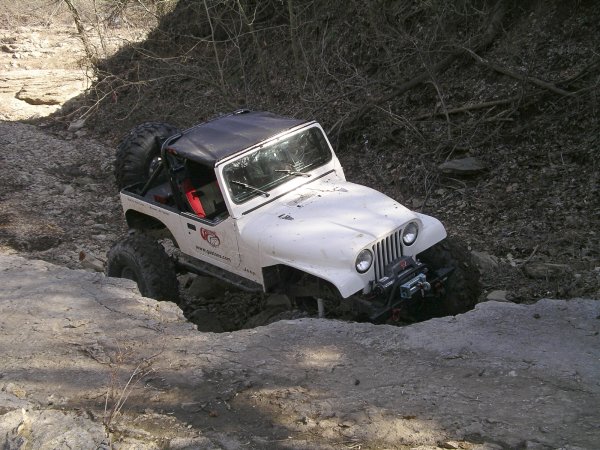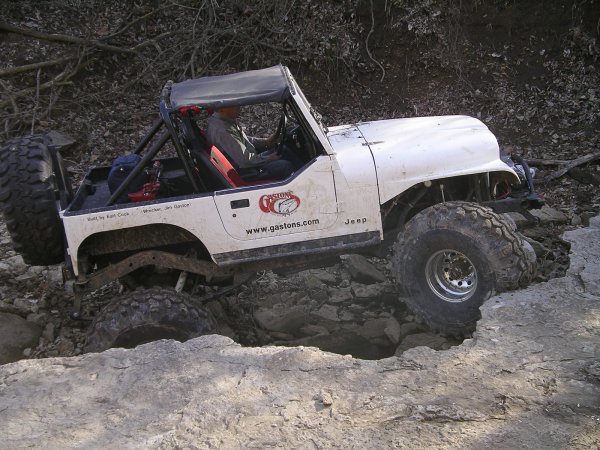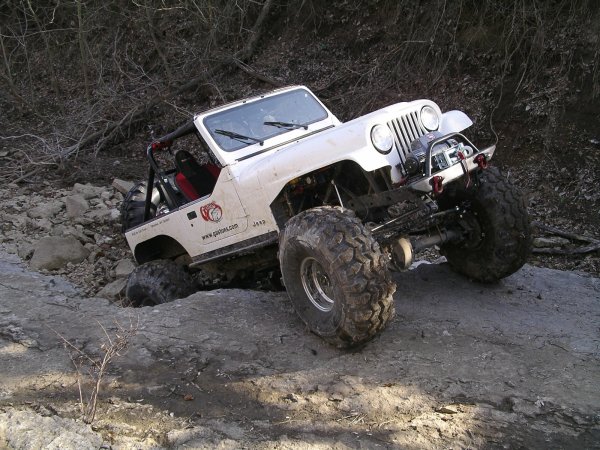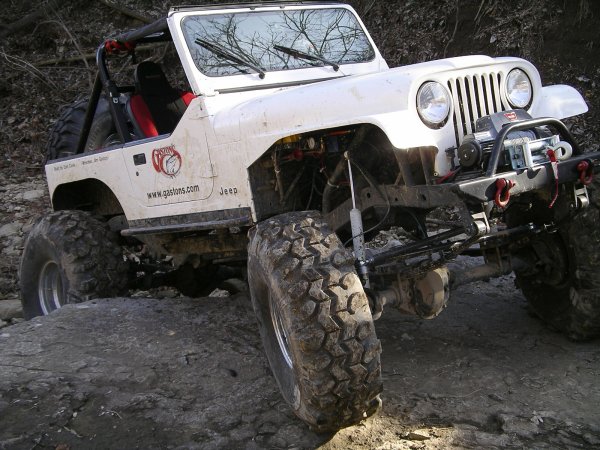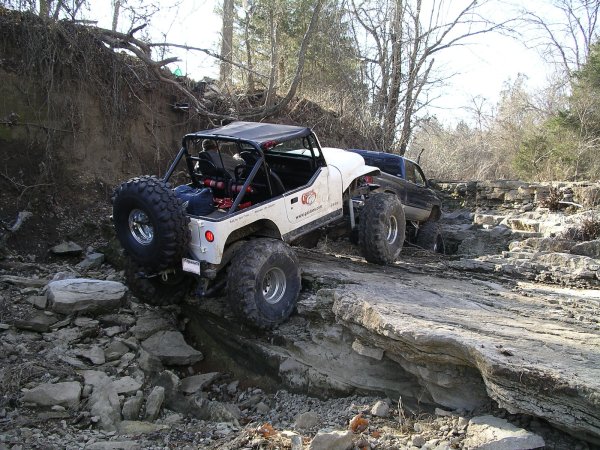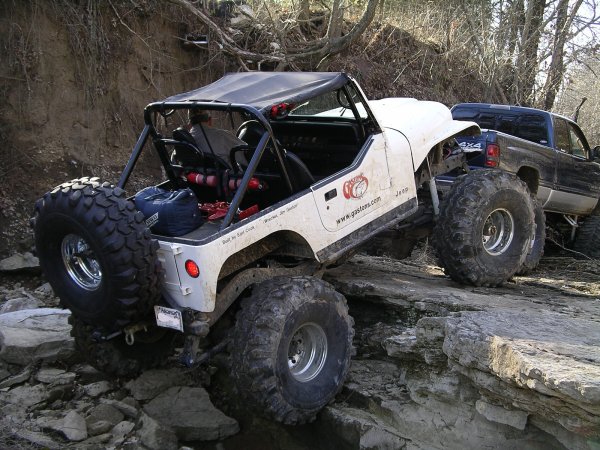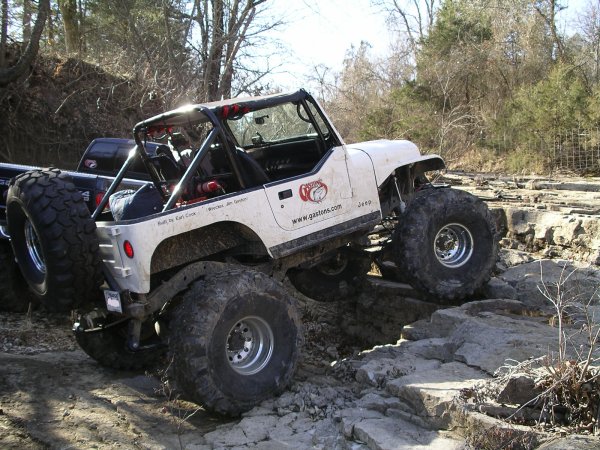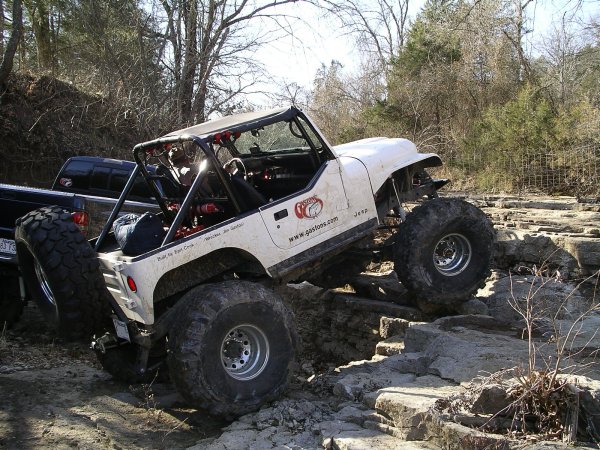 To turn around, he had to climb up these rocks and back up.
Notice the front tire off the ground! This was steep!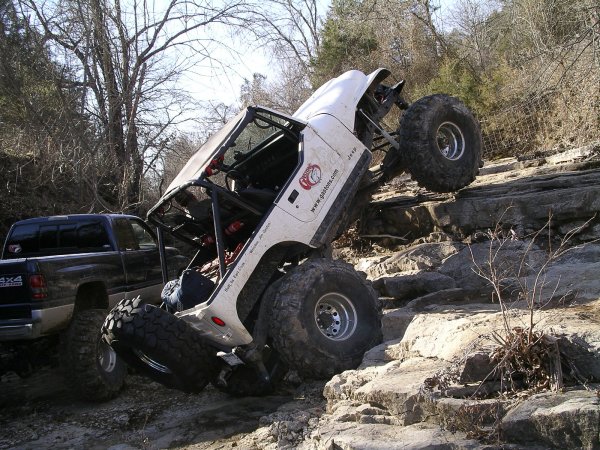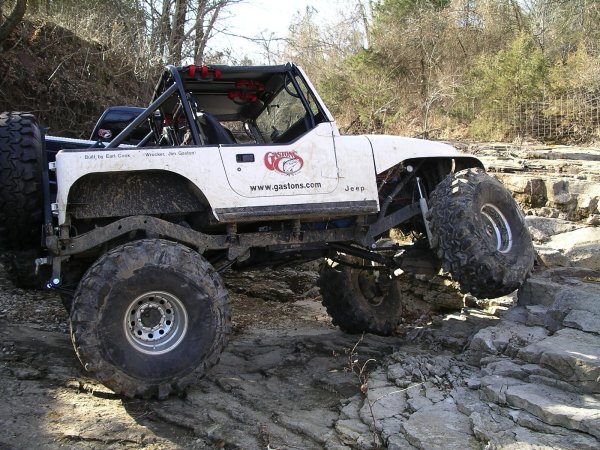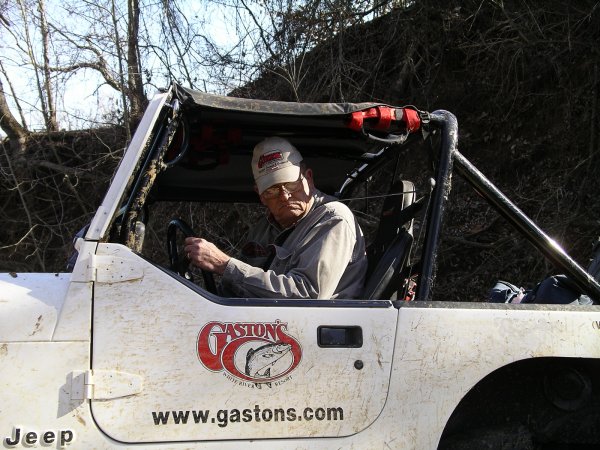 Turned around, and now backing up the bank to get a better line down.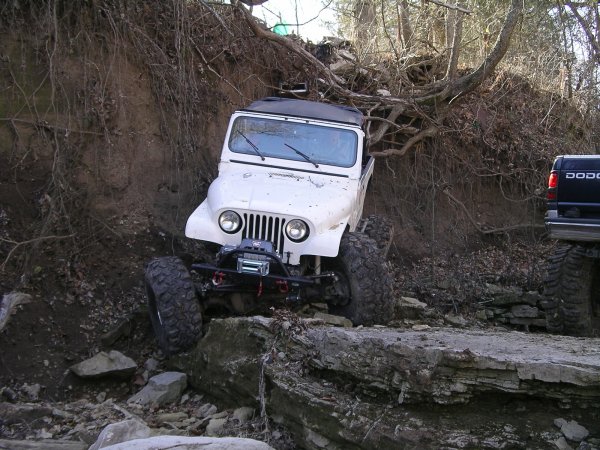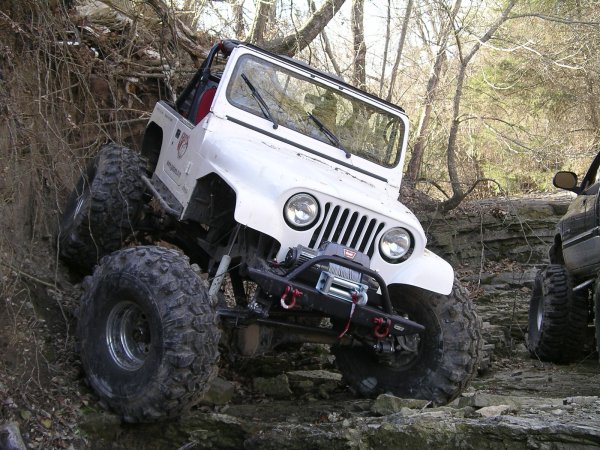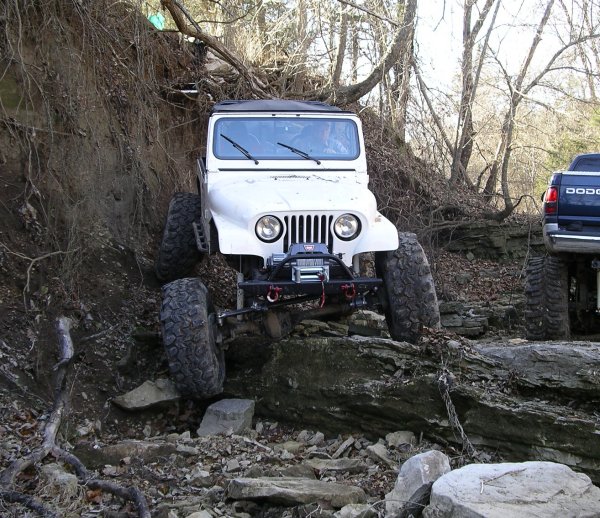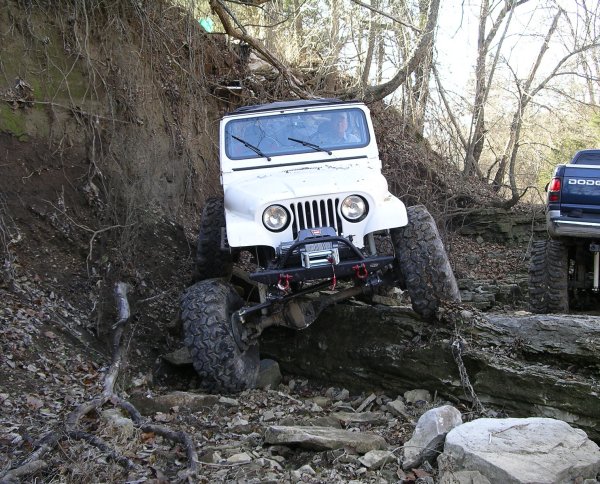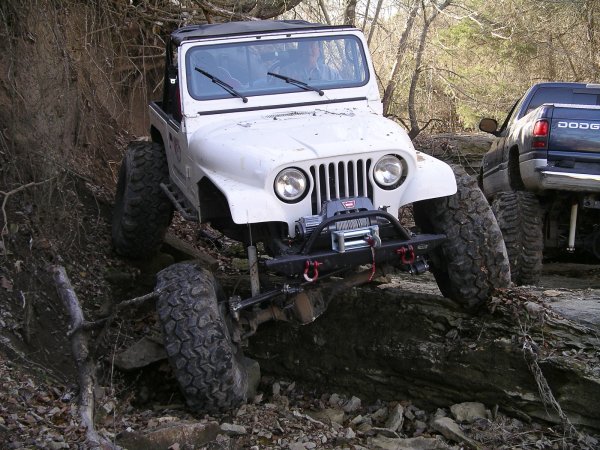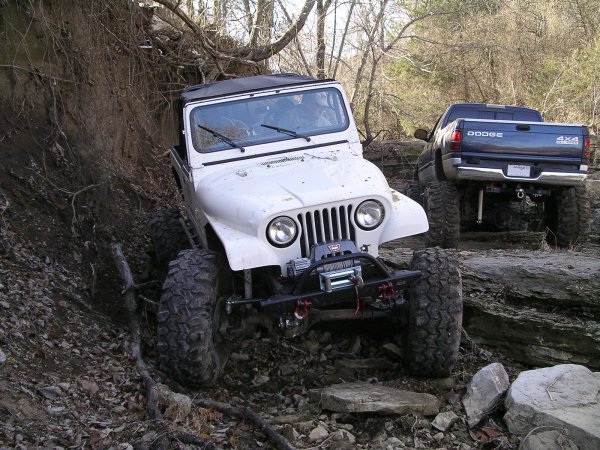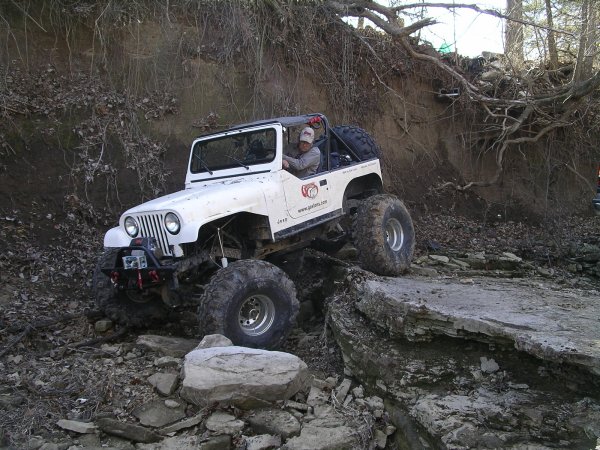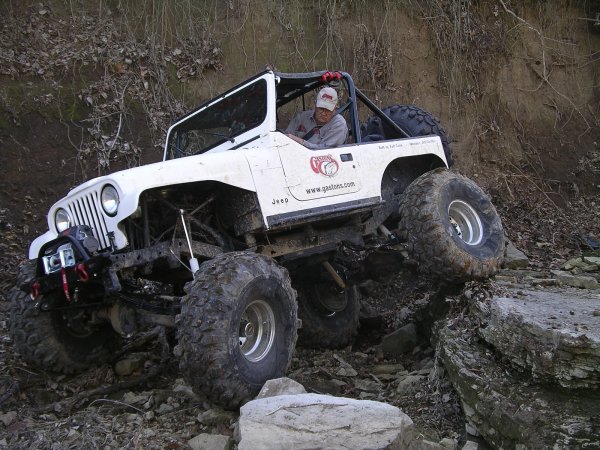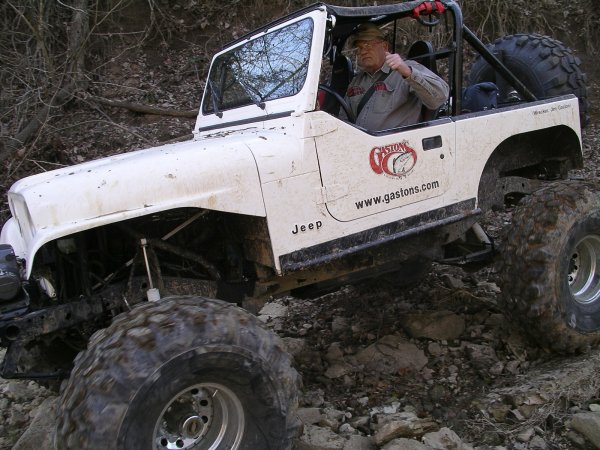 Okay, we got out and I was backing up and got on this rock. I got out
to see if the coil was still in place and it was, so I got some sweet pictures.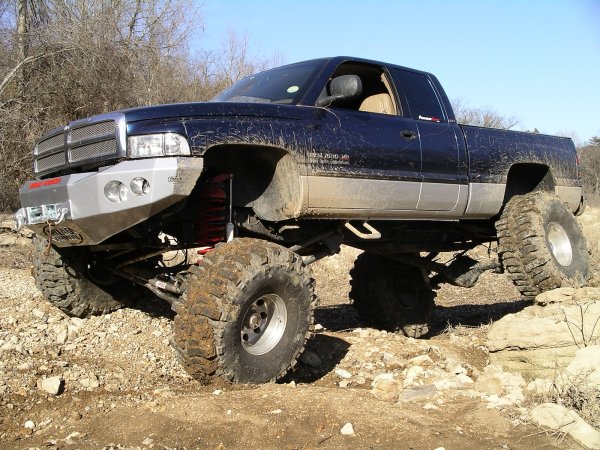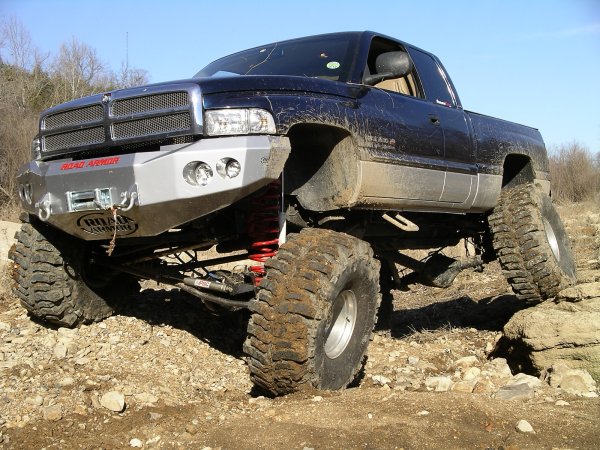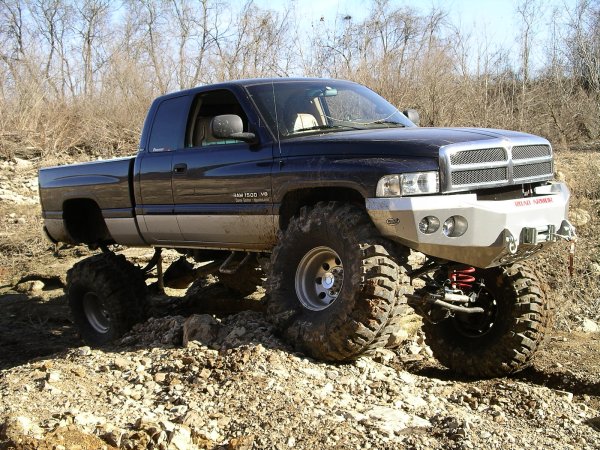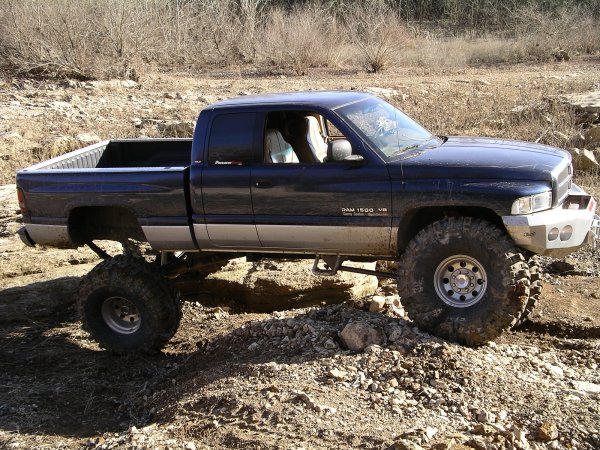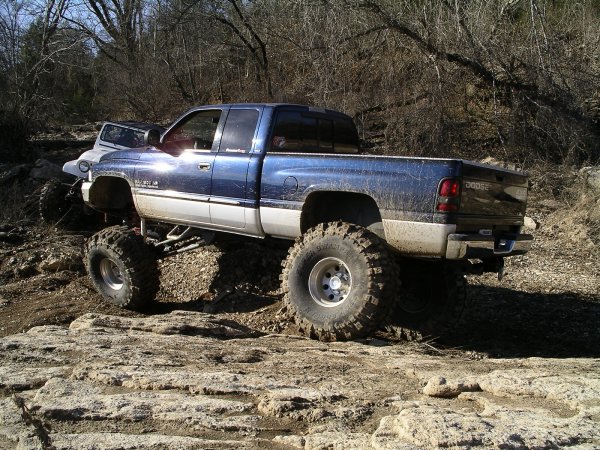 It's Slinky, it's Slinky, it's such a wonderful toy!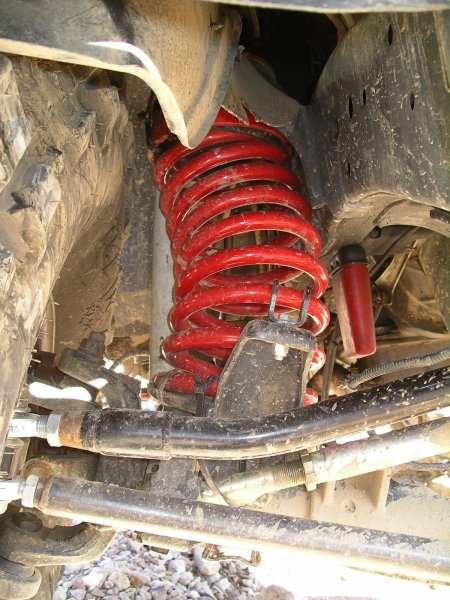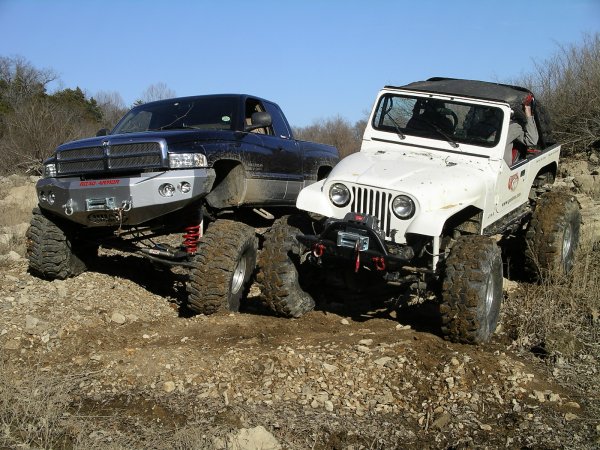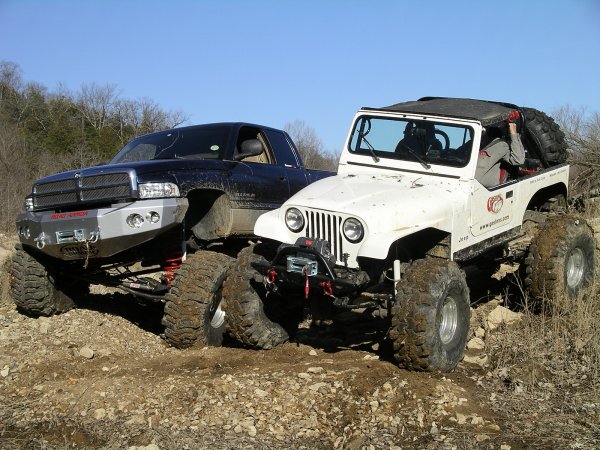 After this, we got into the hardest wheeling of the day, but unfortunately we were the only two on this trip and we had no extra photographers. Maybe next time. We went through some pretty hairy shit and had a blast. We basically just looked for the most hardcore route through the rocks and took it. It was a blast and one of the best days of wheeling I've ever enjoyed.
---
Copyright: Danny Gaston, 2001-2006
Last updated: February 23, 2006