---
---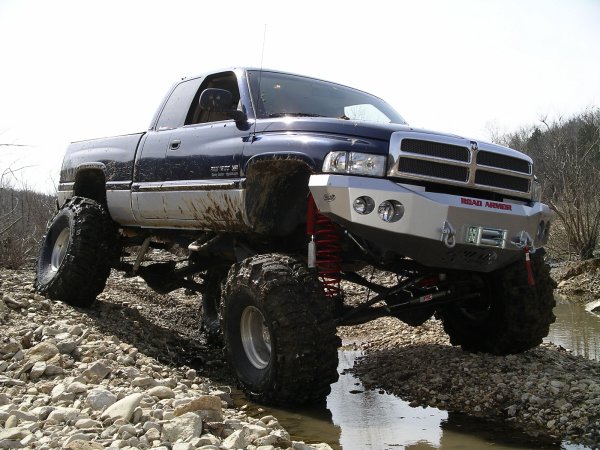 My 2001 Dodge Ram 1500 4x4 Off Road Edition
---
My RigRater Score: 910 RRv1.0 with a BOA of 18.66!
From Stock to Lifted in Pictures Some Offroad Pictures of my Dodge
Tech Page on 1 Ton Axle Swap Tech Page on my APS Transmission
Dodge Vendors List and Info General Dodge 4x4 Tech / F.A.Q.
---
Below is a list of all of the modifications I have made to my truck. I try to keep this list
up to date and accurate, however there may be some things not listed. Check back
often for more pictures and info, and check out my other Dodge related pages for more
detailed information on things I have done and for more pictures.
Thanks to Crow for making the above cartoon!
---
Engine

360 ci, 5.9 liter Magnum V8
Mopar M1 intake and turtle
APS 52mm throttle body
Custom true dual Flowmaster series 40 exhaust
Air Max K&N intake
Hypertech Power Programmer III
180 degree thermostat
Autolite 3923 plugs and larger silicone wires
MSD6A ignition and Blaster coil
Edelbrock ceramic headers
Mopar Magnum valve covers

Lighting

PIAA 520SMR 6 inch 55W driving lights (front bumper)
Hella FF200 5 inch 55w fog lights (front bumper)
KC 5 inch 55w driving lights (rear bumper)
KC 5 inch 35w fog lights (rear bumper)
55w replacement backup light bulbs
White Night rear backup light system with dual 55w halogen bulbs
Browning remote control spotlight
Sport headlight conversion
Clear corner lenses

Drivetrain

APS Precision built 46RE and Bracket Fighter torque converter
Dana 60 front axle with 5.13 gears and an ARB air locker
EGR brake package for Dana 60 (calipers, rotors, pads, extended lines)
Dana 70 rear axle with 5.13 gears, Detroit locker, and disc brakes
One ton driveshaft by Tom Woods for rear with 1410 yoke/U joint
1350 front driveshaft by Tom Woods with 22 inches of splines
Custom modified transmission crossmember
Skyjacker re-indexing ring for transfer case (rotates front shaft down)

Stereo

Rockford Fosgate 9300 CD/MP3 player
Rockford Fosgate 1000.1 bd sub amp
Two Kicker LS5 10" Solo Baric subs in an MTX Thunderform box
Rockford Fosgate coax 6x9's in front door panels
MB Quart 3 speaker component set in Qforms kick panels
Rockford Fosgate component set 5.25's and tweeters in rear door panel
Cadence 600 watt 4 channel amp for mids and highs
Audiobahn 1 farad lightning cap with digital voltage display

Suspension

10 inch Full Throttle 1/2 ton coil springs
3 inch Rancho coil spring spacers and dual shock mounts
6 inch Skyjacker leaf pack in rear
4 inch Skyjacker add a leaves in rear spring pack
4.5 inch 3/4 ton block and custom zero rate blocks
Dick Cepek long arms, custom made 3 inches longer
3 inch Performance Accessories body lift
Rancho RS9000X 9-way adjustable shocks, 36 inches extended
Rock Krawler sway bar quick disconnects
DT Pro Fabrication track bar and drop bracket


Protection

Road Armor stealth series bumper
Transfer case skid plate
U bolt flip on rear Dana 70 with 5/8" bolts
Extended front axle breather hose
Relocated rear axle breather hose
Extended front vacuum lines for CAD
Submariner option on APS tranny

Steering

DSS steering brace
Skyjacker Extreme Drop pitman arm
Borgeson heavy duty steering shaft
ThurenFab custom 1 ton crossover steering
PSC power steering gear box tapped for hydro assist
PSC high displacement power steering pump with remote can and filter
PSC hydro assist cylinder

Tires and Wheels

44x19.5x16.5 Super Swamper Boggers
16.5x12 8 lug aluminum wheels

Miscellaneous

Warn XD9000i electric winch
Yellow top Optima battery
ARB air compressor under hood
Carr side steps
Garmin GPS 5
Escort radar detector
Cobra CB radio
Autometer dual gauge pillar with trans temp and oil temp gauges
White face gauges
5% tinted windows
Husky floor liners
Tan leather seats
Diamond Plate bed rail protectors
Spray in bedliner
Wal Mart special tool chest

Previously:
39.5x18.5x16.5 Boggers and 42x15x16.5 TSL's on 12 inch wide wheels
17x10 Weld Racing Cheyenne 5 forged aluminum wheels
38x15.50r17 Super Swamper SSR Radials, 10 ply

Have also had 35 inch MT/Rs and 35 inch Xterrains on 16x8 American Racing wheels,
and 37x12.50r17 Goodyear MT/R's on my 17x10 Weld wheels
What's Next?

Dual 2.5 ton steering Rockwell axles
Ouverson Super 8 hubs with disc brakes
ARB air lockers front and rear
King 2.5 16-inch coilovers front and rear
Trailready beadlock wheels
42 inch Iroks (most likely)
12,000 pound Milemarker hydraulic winch
---
Here are a few offroad pics. To see more, visit my Offroad Picture Page.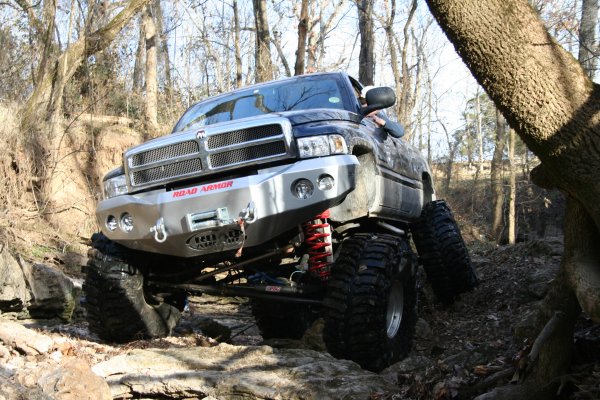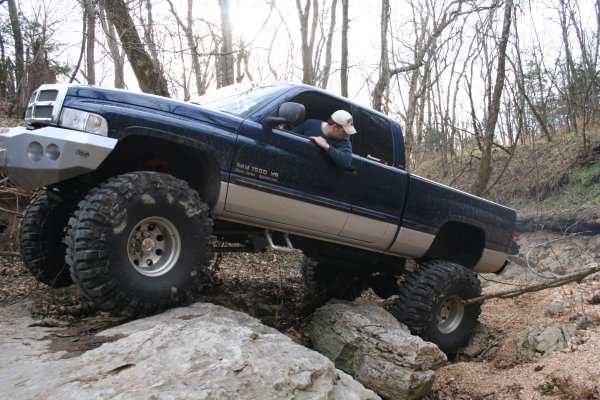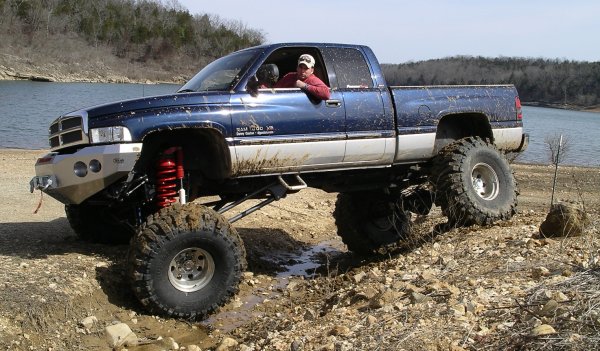 ---
I bought this truck barely used a few days before September 11th, 2001. I had always
wanted a full size Dodge so I traded in my Dakota for this. At the time of purchase,
I did not even know "why" my Dodge sat up taller than most. I saw the Off Road sticker
on the back but had no idea what that meant. In the last few years, I have learned most of
what there is to know about Dodge trucks thanks to various forums and websites.

I also want to thank "The Beast" at Lockitup Offroad for building my axles and then
driving 10 hours up to my house to help install them. He saved me a ton of money
and is an awesome guy to hang out with. He has a 4x4 site and his club is probably
one of the most hardcore of any clubs out there. They have a discussion board as well.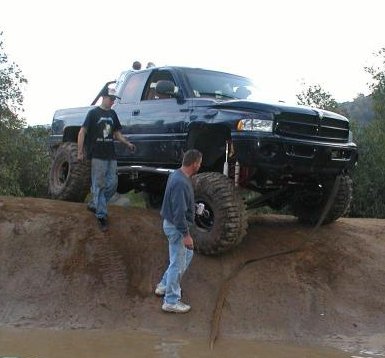 I am proud to say that I have built this truck myself, not paid a shop to do it all. I have to
thank my friend Justin for always putting up with me and my desire to always change up
something on my Dodge. If it was not for Justin, this truck would not be what it is today.
Once we get some good pictures, I will be making a page about his truck as well.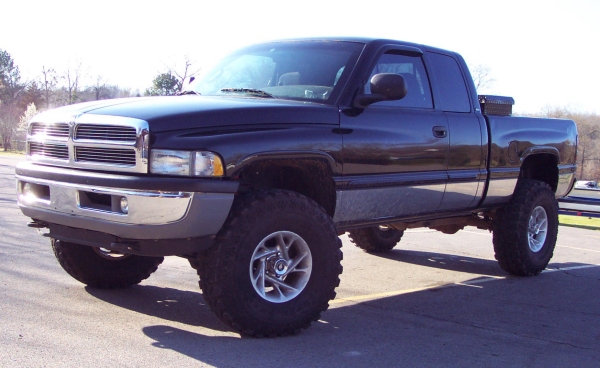 Justin's Truck with new 37 inch SSR's
---
Click Here For The Evolution of my Truck
Click Here For Some Offroad Pictures
---
Copyright: Danny Gaston, 2001-2007
Last updated: February 09, 2007