---
---
| | |
| --- | --- |
| Welcome to my website! My name is Danny Gaston and this site exists to document some of the vehicles I have built, and the off road trips they have been on. I own Dodge Off Road, where we specialize in suspension and steering upgrades for Ram 4x4 trucks. Modifying 4x4 vehicles is a passion for me, so getting to do this for a living is honestly a dream come true. I use my hands-on experience to design and manufacture the best parts available, and back it up with world-class customer service. It's a formula that has worked extremely well. Please visit Dodge Off Road for more information on the company and the products we make and sell. | Please visit Dodge Off Road for any questions you might have regarding any vehicles here, or modifications to your own vehicle. |
---

2001.5 Dodge Ram 2500 4x4 Sport V10, 8" dual rate coilover front suspension with long arms using King 2.5" remote reservoir shocks,
and 7" dual rate coilover rear suspension with long arms using Prodigy 2.63" remote reservoir shocks, DOR adjustable track bar, DOR
steering brace, Thuren steering, 41" Iroks on 17x9 wheels, Road Rhino winch bumpers front and rear with PIAA lights, SCT-tuned V10
with a Flowmaster Series 70 muffler, K&N FIPK cold air intake, Fastman 52mm throttle body, with Rockwell axles in the works.
---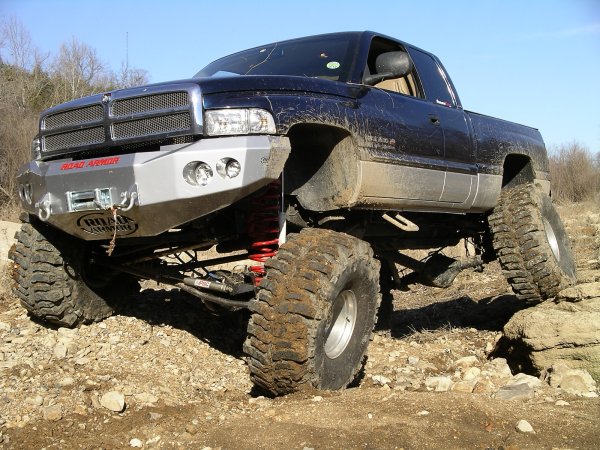 2001 Dodge Ram 1500 4x4 Off Road Edition
I built this truck from stock and then sold it after pack rats invaded the engine compartment for about a year.
I used to go wheeling a lot with it but didn't drive it much at all the last two years I had it so it just made sense
to get rid of it and move on. From what I understand, it looks ridiculous now because the current owner has tiny
all-terrains on it and McDonald's arch leaf springs in the back. So much for rear suspension articulation.
---


2004.5 Dodge Ram 2500 4x4 Cummins 6-speed
Got rid of this truck after someone else blew the motor due to pure stupidity. I never got to finish the build
but it was cutting edge at the time, as it was one of the first 3rd gens to be modified so heavily.
---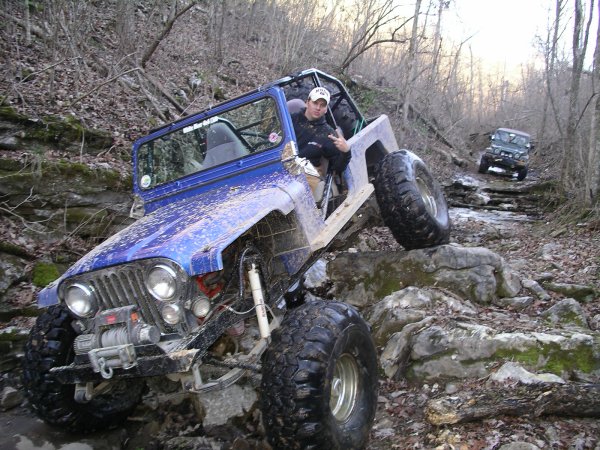 1983 Jeep CJ-8 Scrambler named "Scramzilla," TPI 350 V8, SM465 transmission, Dana 300 transfer case,
1 ton axles with lockers front and rear, 5.13 gears, 42 inch beadlocked TSL's, on board welder, dentproof body...
Click for more Jeep info and pictures
Sold this Jeep after a few years of constantly working on it to keep it running. I hope to build another one very similar
to it someday. Great platform but the entire motor needed to be torn out and started over with.
---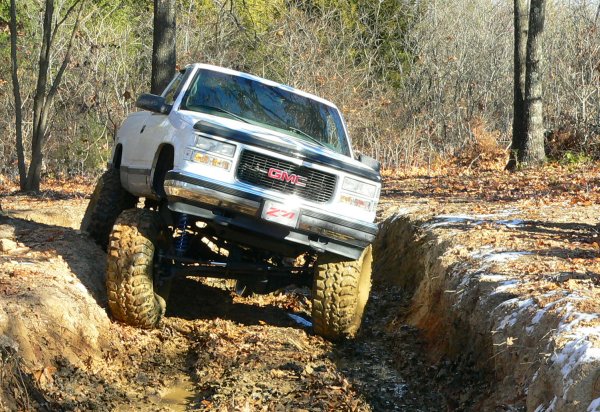 My little brother's 1998 GMC Z71 straight axle, 13 inch lift, 42 inch Super Swamper Iroks, Dana 60 front with ARB
air locker, 3 link and coilovers, and full hydro steering, 14 bolt rear axle with Detroit locker and 5.13 gears...
Click here for more Z71 info and pictures
Clint rolled this truck a few years ago and we are still planning on tubing it out and finishing out the rear suspension.
---
My Family

Lil B, Trixie, Me, Turbo, Jana, Bianca
---
All Images and Text Copyright: Danny Gaston, 1995-2013
Last Update: November 06, 2012